Ticks
We test the effectiveness of acaricides, attractants and repellents (sprays, lotions or treated textiles) against ticks according to current guidelines and latest test methods to be found in the scientific literature.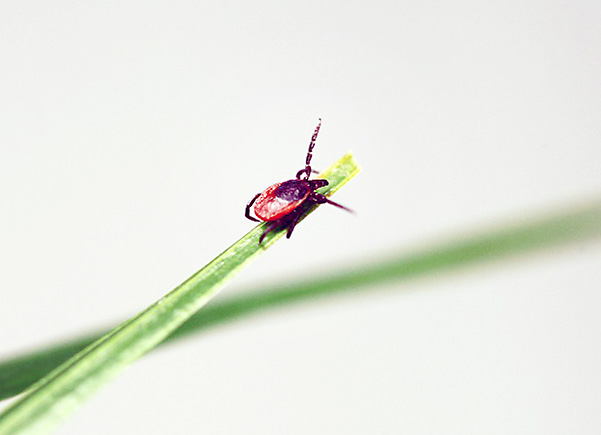 Acaricides
We carry out efficacy tests of acaricides using standardized test procedures. We also determine the dose-dependent lethality (LD50, LD90) or the knock-down and knock-out times of test products with different tick species and stages.
Textiles (functional clothing with vector protection)
Textiles with anti-tick finish or textiles treated with anti-tick agents are tested with outdoor ticks according to the current guideline TL 8305-0331 by the German Armed Forces.
In other procedures we determine the mechanical permeability to ticks or the time and distance ticks can walk on an impregnated material until knock-down.
Attractants
Traps with attractants are tested for range and effectiveness in the laboratory or in the field.
Repellents
Moving Object Bioassay (MOB)
This biotest developed by us is listed as a laboratory test in the current ECHA guideline "Guidance on the Biocidal Products Regulation (BPR)" . It is predestined for comparative studies already in the early phase of product development, e.g. to determine dose-effect relationships. The results of this laboratory test are already very close to those of a human test (scientifically proven: "Dautel et al. 2013").
Product testing on humans
Ready-to-use repellent products are tested on humans for approval in the final formulation intended for the market. Our tests follow the European (ECHA BPR) or the US American guideline (EPA). We use ticks from our own breedings, which are free of borrelia and FSME viruses. Based on many years of experience, we can guarantee that the ticks are in the correct physiological state for the tests.